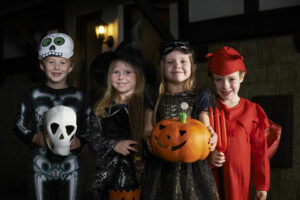 Did you know that October is National Orthodontic Health Month? Well, it is and we are so excited to celebrate!
As many of you know, maintaining your oral health and taking the time to clean is incredibly important to ensure a healthy smile. Without proper oral hygiene during orthodontic treatment, we can have issues with swollen gum tissue (gingivitis), cavities, gum tissue recession, and even bone loss around teeth.
Orthodontic treatment produces beautiful smiles, but the goals of treatment extend further than just a pretty smile. We strive to create occlusions that function in an ideal fashion so that they can withstand years and years of use. Teeth that are properly aligned are easier to clean. This can help prevent gingivitis and periodontitis, issues which can lead to loss of bone and gum tissue around teeth. In addition, teeth that fit together properly are less at risk of wear and fracture over time.
But did you know that orthodontic treatment may not be for everyone? The only way to know if you are a good candidate for orthodontic treatment is to consult with an orthodontist. At iSmile Orthodontics, all our consultations are completely complimentary!
We will go over the different treatment options that we have available. We take the time to go over what your smile goals are so we can match you with the best treatment because even though we have multiple treatment options that may produce similar results, they are all different. Most of the time there is no difference in the effectiveness of clear aligners, metal, or clear braces. However, sometimes aligners are not an option due to more severe issues like impacted teeth. We do see that most of our patients, including kids, teens, and adults, are candidates for clear aligners.
With Halloween coming up in the next few weeks, we thought it may be best to cover some information for families to know. Generally, we say, stay away from candies that are hard and sticky. Avoid biting into suckers/lollipops or other hard candies like Jolly Ranchers. Avoid sticky candies like taffy and caramels to prevent them from getting stuck in your appliances.
Hard candies can cause brackets or Invisalign attachments to come unbonded from your teeth. Not only does this require an extra visit to our office but it can lengthen your time in treatment because if the appliances are no longer properly attached to your teeth, they no longer working to align your teeth. Sticky candies don't often cause the appliances to break but they can get stuck in your appliances, which can cause issues of their own.
This month we are celebrating Maritza, our scheduling coordinator, and her second anniversary with us! Make sure to say congratulations next time you see her.
If you have been waiting to get started on treatment, we are also offering  $250 off of your treatment competition treatment during October so make sure to give us a call to schedule your appointment as soon as possible.