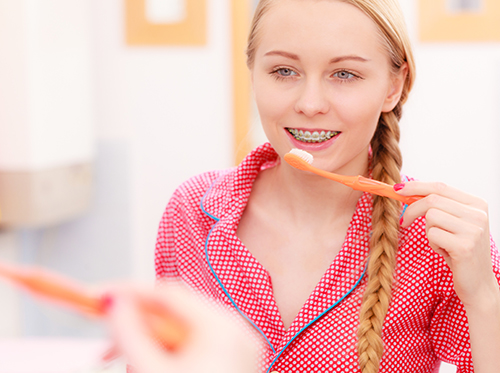 When you start wearing braces, it can become a challenge to clean certain areas of your mouth. If these areas are neglected for long periods of time, though, decay and stains can form on your teeth.
Your mouth will require extra attention while you have your braces on. This can include using a special toothbrush to reach those spots, flossing every day, getting fluoride treatments, avoiding certain foods, and making sure to visit your dentist. Let's take a closer look at what you can do to prevent decay during treatment.
When you get your braces on, DR. Van Gemert will give you an interdental toothbrush that can be used to get to those hard-to-reach spots in your mouth. The brush has bristles that can easily remove food residue stuck between the wires in your mouth. We may also suggest using a WaterPik, which pulses a pressurized stream of water to remove excess food particles.
Brushing and flossing every day should always be a part of your oral health regimen, but this becomes especially crucial when you have braces. If food gets stuck between braces and sits on your teeth, decay and staining will start to occur. DR. Van Gemert and our team recommend flossing at least once a day, and brushing and using mouthwash after every meal as long as you have braces.
If you don't have the time, make sure at least to swish your mouth really well with water after you eat. It's especially important to follow these steps after consuming sugary foods or beverages. It's best to avoid sweets altogether when you have braces.
Making sure to visit your dentist at least twice a year for a routine cleaning can also help to prevent any decay from damaging your teeth while your teeth are encased in braces. Your dentist will remove any plaque or tartar that's built up since your last cleaning.
Prevention is key when it comes to keeping your mouth healthy during orthodontic care with braces. Follow these tips and you'll keep your teeth beautiful and healthy for the day your new smile is finally revealed!